Image Miniature: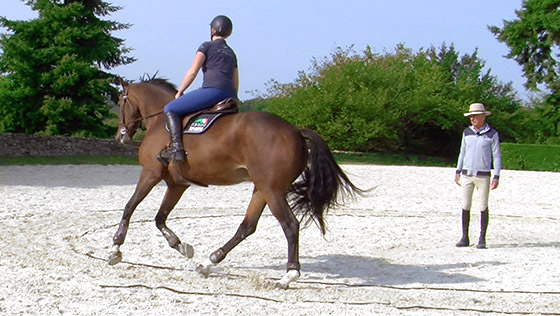 Résumé listing:
The set-up of this exercise made by Michel is extremely effective in encouraging the rider to stay mentally present and physically active on all the "commanding aids". The feedback is immediate and it gives the riders the opportunity to be aware of the quality of their position and actions.
Goal:
This new exercise stands out if you need to improve the steering and thrust of your horse on a precise track. It also gives you an excellent opportunity to work on your position, as well as the discreetness of your aids. It improves your capability to control your mind while the difficulties arise. Once again, in this video, you will note how much the determination of the rider is a key to ride successfully this exercise.
You will learn how to optimize the pushing power of your horse just by working on his flexion. This work will improve the balance of the horse by distributing his weight on all his feet equally. However, the exercise will be beneficial only if the rider is able to communicate with light aids and be receptive to the horse's feedback.
Thus, it is important that you utilise Michel's advice: doing so encourages the riders to be aware of their position and influence on the horse. The goal is to become precise while implying less constraints to the horse.
This exercise is shown on the sheet A4 of the Training program 1
Progress:
Today, Michel teaches Lucile and her mare Vanille.
At the slower gaits, the exercise seems really easy for a well-seasoned rider and horse. However, the canter work is a bit more difficult. It reveals the dissymmetry of the horse or rider and the key elements in the rider's position to improve.