You are here
Questions for two champions : Pénélope LEPRÉVOST and Michel ROBERT - part 1

During the Masterclass that took place on January 5th and 6th of 2019, at the Boulerie Jump venue in Mans, Michel Robert and Pénélope Leprévost answered the questions to the public.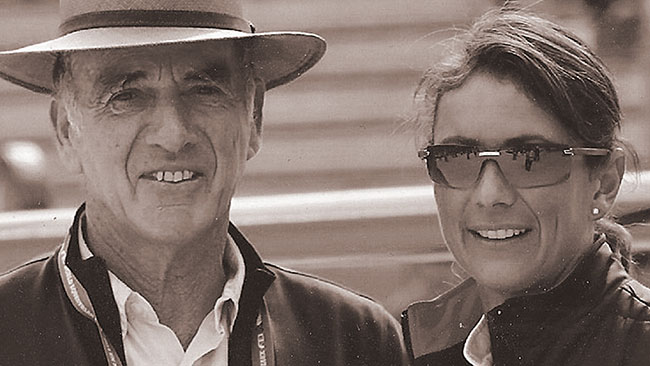 In your view, what is to «be a Champion»?
Michel Robert
To be a champion is just like to have a label. There are more and more French Champions with the "Clubs competitions "and pony competitions. It is true that it is necessary to define what the word "Champion" means. Are we a champion from the moment we become an Olympic Champion like Penelope? Numerous people want to become a champion in their heart, in their mind…after all, each of us need to see how far he can go.
Pénélope Leprévost
Not everyone wants to become a champion. Some can dislike challenges or competing against others.
The first and most important thing that matters, is to find the horse that will take you to the expected goal. We ride first of all for the relationship, to pass on something.
How did your partnership started?
Michel Robert
This notion of relationship with the horses is crucial. If we like to ride horses, it's for a reason. We are attracted to them passionately. It's not just a question of money or fame in the show ground. Penelope said it really well earlier. That's this relationship with the horse that we want to develop and enjoy. Whatever the discipline, this notion of harmony with the horse is a priority.Michel Robert
The first time I saw Pénélope riding, I thought to myself "Well, the ideal position that we are all seeking truly exist".
Pénélope Leprévost
To start with, we have one thing in common. We both lunge our horses in a rope headcollar! Many people are looking at us with wide eyes. When we met, Kronos D'Ouilly just arrived at Michele's yard and for me, it was Jubillee D'Ouilly. This mare was really good, but she was uncommon and fearful.
Michel Robert
That's right, Jubilee didn't really liked humans. She was sore a little bit everywhere and had some bad past experiences.
Pénélope Leprévost and Jubilée at Equita Lyon in 2008
Pénélope Leprévost
With Jubilee, we had to get to the bottom of all the exercises. At first, I had to sit on her forward and to her right. I rode her like that for two years. I couldn't really explain why, but I could feel that she was more comfortable when I was riding her that way. The first time I went to train her with Michel, he lunged her without any saddle and with a headcollar, then he put a saddle on her and I rode her while Michel was lunging me and I had no reins, like a beginner. Then, we put on a bridle with the headcollar still on her, and we attached the reins to the collar. One thing lead to another, we succeeded in transforming her into a champion. Jubilee was my first grand-prix horse and without Michel's help, it would have much been more than challenging as she was extremely hard to ride. Within 6 months, I was able to do some grand-prix. At first, in the warm up, I couldn't even get close to the fences. Michel really helped me with my technics and my spirit.
Michel Robert
Penelope is able to ride some horses at the grand-prix level who normally would not be able to jump more than130cm, and win with them… such the ones at La Baule.
She really gives wings to her horses. She knows how to have them give120% thanks to her position and also her determination… And the horses are willing to give it to her.
Pénélope Leprévost
Such horses have a real good heart, however it's crucial to not betray them
Michel Robert
It's when we encounter difficulties that we realise how important it is to be technically and mentally sharp. When we are a well-seasoned rider, riding a brave and easy horse who accepts everything, we don't really learn anything more..
Pénélope Leprévost
Well, that said, it's also great to ride easy horses from time to time.
Michel Robert
True.
With complicate horses, we really need to be a believer. For that, Penelope has an exceptional spirit. We cannot be successful if we don't have the vision of success in mind.
Are you doing a lot of mental preparation before your rounds?
Michel Robert
I think everyone is doing some sort of mental preparation…sometimes even without being aware of it. The simple act of walking the course is already a sort of mental preparation. When you need to remember that after the vertical, there is an oxer, and then a turn…It is already some mental programming.
Pénélope Leprévost
For my part, I think I do things more instinctively. I don't intellectualise as much as Michel. I don't think ahead about my attitude.
Michel Robert
Ok but you know your course before you enter the arena. Therefore, there's already some anticipation. Even dressage riders do it. They go into a corner and mime their test. Of course, the need of mental preparation is different for each individual. For me, when I was in a grand-prix competition, I needed to imagine the perfect course at least 5 times in my mind before entering the arena. If the course was not perfect in my mind, I would keep reviewing it. For most riders, it's a precious help.
To program our mind positively is a priority. If one is being told that he's bad and good at nothing, he will program himself in a negative way and will have very little chance to be truly successful. The power of our mind on our action is huge.
Michel Robert and Kronos d'Ouilly, Starting the course Grand-Prix of the Toscana Tour 2018